Meet the team at Kerrisdale Family Foot Clinic in Vancouver. We look forward to working with you!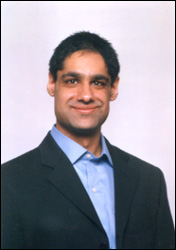 Dr. Faiyaz Dedhar
Born in Nairobi, Kenya, Dr. Dedhar spent his formative years in Calgary. He holds a B.Sc. in Microbiology and Immunology from McGill University. His podiatric medical education was completed at Temple University, located in Philadelphia. As part of his training, Dr. Dedhar served multiple internships at hospitals across the US. He moved to Vancouver in 2003 to pursue advanced training in foot surgery at the Vancouver General Hospital.
He is currently a member of the Associate Staff at Vancouver General Hospital. Within this capacity, he is involved in consulting at and teaching at a hospital-based podiatry clinic. In addition, Dr. Dedhar also directs the podiatric care of patients at several lower mainland assisted living facilities. He is involved in all aspects of podiatric care and has a particular interest in biomechanics, orthotics, sports medicine and palliative podiatry care.